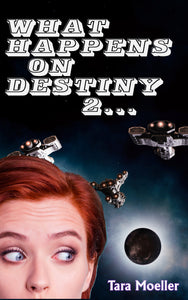 DreamPunk Press
What Happens on Destiny 2... - Digital
Regular price
$0.00
$0.00
Unit price
per
Digital Download only.
First published as part of the Anthology "Stardust," compiled, edited, and published by Cynthia Shepp; this is the uncensored version. CW: sexually explicit scenes
Gretchen, the captain of a cargo vessel, thought she was just doing a favor for her mother, a legal brothel owner, but transporting her and her employees to their next contract, turns out to be a little bit more than that.
Kyle, the recently divorced head of the mining company on Destiny 2, has just resigned his position to go home to raise his two daughters.
Neither expected to meet the other, and for sparks to fly...
Digital copies available in Mobipocket (for Kindle), ePub, and PDF.
PDF uses OpenDyslexic font.
---