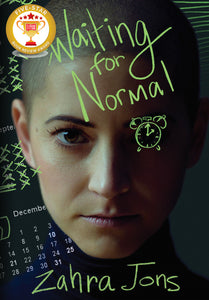 DreamPunk Press
Waiting for Normal - Trade Paperback and Digital
Regular price
$3.99
$15.99
Unit price
per
Recipient of a Five Star Award from Lit Pick! Read the review here!
This book has also received a beautiful review from Feathered Quill.  Read that review here!
All Cat wants is for life to go back to normal: to hate high school just because its high school, to fight with her mom over her makeup, to defend her choice of boyfriend (who's back in her life and back at school) to her dad, to sit through parent-teacher conferences due to poor grades (and nothing else), to get on her sisters nerves just because she can.

But she can't.
She's too busy waiting; waiting until she's done with all the cancer treatments, waiting for everything to go back to normal.
Available in OpenDyslexic or Deja Vu font; Mobipocket for Kindle or ePub
[CW=talk of sex, near violent incident]
---