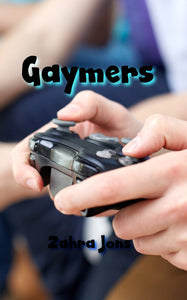 DreamPunk Press
Gaymers - Digest Paperback and Digital
Regular price
$1.49
Sale price
$6.99
Unit price
per
It was all fun and video games for Aiden, Stu, and Connor when they were teens--until the day Connor's Dad went too far and child protection took Connor away.
Aiden missed Connor, more than most folx knew; their usual game, and Aiden's life, both left on pause.
Now, Spring Break four years later, he's got Stu's birthday celebration to help distract him, but the old gaming system is still there...waiting to continue the adventure like always.
But when Connor shows up, perhaps picking up where they left off isn't the right route. Maybe it's time to start a brand-new adventure?
CW: parental abuse [in the past, discussion about, memory recall of it, nothing graphic]
Available in OpenDyslexic and DejaVu; Mobipocket (Kindle) and ePub
---