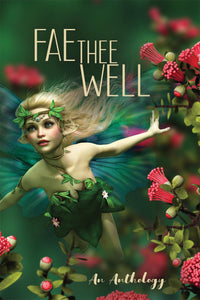 DreamPunk Press
Fae Thee Well; an Anthology - Trade Paperback
Regular price
$15.99
Sale price
$19.95
Unit price
per
A compilation of fairy stories and poems from authors and poets who spread their wings 'round the globe to wind your imagination into magical tales rooted in both familiar and exotic. These stories explore the many facets of mythic creatures, from the ethereal and majestic to the urban and everyday. 
Delve in and find your new favorite artist.
Available in OpenDyslexic or DejaVu font
Edited by Tara Moeller.
This collection includes works from 
Travis I. Sivart
Andrew Hiller
Pamela K. Kinney
C. H. Williams
Ella Rite
Luna Nyx Frost
P. A. O'Neil
Joseph R. Kennedy
Emberly Summers
Allison Norfolk
A. I. Mychalus
V. Szulc
Jeremy Rodden
Thomas B. deMayo
I. Mira
E. C. Hibbs
---