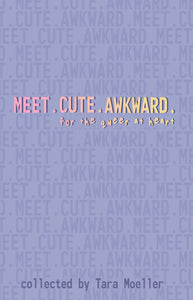 DreamPunk Press
Meet. Cute. Awkward. For the Queer at Heart
Regular price
$17.99
$0.00
Unit price
per
LOVE IS LOVE,
BUT AWKWARD IS AWKWARD.

Enjoy these 8 genre-spanning stories of cringe ­worthy misunderstandings and angsty first meetings, because even the cutest ending can have an awkward beginning.

Includes stories by Kayla Whittle, Jacob Budenz Astra Crompton, Richard Leise, Katharine Bost, Ashe Thurman, Morven Moeller, and Zahra Jons.
Available in Open Dyslexic and Deja Vu fonts. 
Contains non-explicit queer content. 
Contains angst.
---