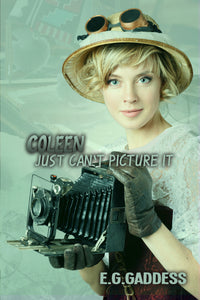 DreamPunk Press
Coleen Just Can't Picture It
Regular price
$10.99
$10.99
Unit price
per
All fifteen-year-old Coleen Stuart-Campbell wants is to take her photographs and get the school credit she needs. She doesn't want romance. She doesn't want to have a panic attack. She doesn't want to catch a thief. She's not sure she wants to make friends.
But she does. Except… her new friend likes the boy that likes Coleen. But he doesn't like Coleen because he thinks she's a thief. So, Tiponi likes her again. Poor, confused Coleen doesn't feel that way for ANYONE.
Who knew when she convinced Poppy to let her come on this assignment, that the worst part of the airship (she hates heights) to steam train (Mr. Sagat was très horrible) to automaton wagon journey (oh, the bumps and heat) would be the confusion at the end of the line?
Coleen never would have pictured any of it…
In open dyslexic font.
---