• anthology • call for submissions • IndiePress • opendyslexic font • Publishing • romance • short stories
We are accepting short story submissions of 5,000 to 8,000 words until Dec 1, 2021 for a Valentine's anthology for 2023.  Send us your awkward meet, awkward first kiss, awkward anything short story with a HEA or at least hopeful ending. We want your cute and sappy and sweet enough to rot your teeth stories. Send submissions in Word (or Word accessible) to dreamer-in-chief@dreampunkpress.com. Payment will be $100 per story. 
---
• author • J. M. Silverleaf • Publishing • T. L. Frye
So, here it is, the end of July, and we haven't stuck to our publishing schedule. 
---
• Discount • IndiePress • Publishing • Subscribers • website
Are you one of our loyal newsletter subscribers?  If you are, thank you.  And to show our thanks, we've set up a special discount code...
---
• IndiePress • Publishing • website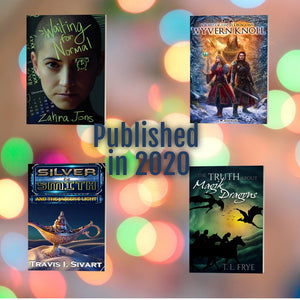 Well, 2021 has finally arrived, and I am well glad of it.  2020 was...a hard year, all around, for many different reasons.
---
• IndiePress • Publishing
Small publishers, like the DreamPunk Press Collective, use POD to keep manufacturing and warehousing costs to a minimum.