• Discount • IndiePress • Publishing • Subscribers • website
Are you one of our loyal newsletter subscribers?  If you are, thank you.  And to show our thanks, we've set up a special discount code...
---
• IndiePress • Publishing • website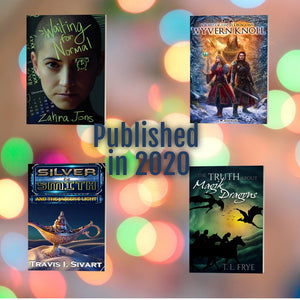 Well, 2021 has finally arrived, and I am well glad of it.  2020 was...a hard year, all around, for many different reasons.
---
• IndiePress • Publishing
Small publishers, like the DreamPunk Press Collective, use POD to keep manufacturing and warehousing costs to a minimum.
---
• navigation • website
Well, we finally bit the bullet and worked out a--hopefully!--better navigation for the website.  The top menu allows you to choose the genre you are looking for, which we think makes sense.  In the footer, we added two other menus: one to select by author and one to select by reader level (i.e., middle grade vice new adult). We hope this is actually better than what we had before.  Please let us know what you think. Is it better? Or worse? Happy reading, folx! Dreamer-in-Chief
---
We've got four young adult novels slated for publication next year!